Precision Device
Engineered for accuracy. Touch ColorReader to any flat surface and the built-in LED surrounding the advanced color sensor will evenly illuminate the surface with no outside interference, isolating the color for more precise measurements.
Lightweight and portable so you can always have it with you to capture any color, any time, anywhere.
Successfully matches paint colors — ColorReader EZ with over 85% accuracy and both ColorReader and ColorReader Pro with over 92% accuracy.
Versatile App
Instantly displays precise color measurements in CIE Lab, RGB and Hex, as well as paint color matches for most paint brands. ColorReader and ColorReader Pro also display CMYK, LCH and LRV color measurements, as well as matches to RAL® standards. Working in advance with Datacolor, you can even add your own custom color collections!
Save captured colors and create your own color palettes. The app can also recommend complementary palettes for your projects.
Easily share color measurements and paint colors with friends, clients, colleagues or paint stores through text, email and more.
Try on your paint color matches the easy way with click-to-order Samplize peel-and-stick paint color samples. Real, re-positional paint samples without the mess or hassle of painting it yourself. (North America only)
Which ColorReader is best for me?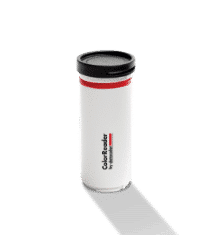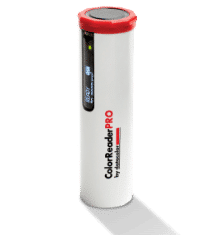 Delta E, CIE Lab, RGB, Hex, CMYK, LRV, LCH
Delta E, CIE Lab, RGB, Hex, CMYK, LRV, LCH
RAL & NCS
North America: RAL
RAL & NCS
North America: RAL
RAL & NCS
North America: RAL
2 Coin Cell Batteries
(included)
Rechargable Lithium
(via included micro USB cable)
Rechargable Lithium
(via included micro USB cable)
Mobile App Connection via Bluetooth

Save, Label and Share Colors

Complementary Color Suggestion

Look Through Digital Fan Decks
Samplize Peel-and-Stick Ordering
(North America Only)